Israeli-Palestinian peace talks' resumption put in doubt by both sides
Deep hostility within the Israeli coalition government over the agreement for preliminary talks forged by Kerry on Friday.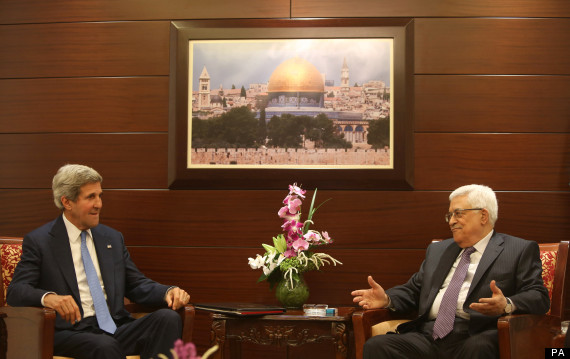 Palestinian President Mahmoud Abbas, right, meets with US Secretary of State John Kerry in Ramalla
Without even reaching Washington, the "talks" seem to be foundering. This is not really surprising as it has always been abundantly clear that Israel has no interest or intention of making any agreement with Palestine. The comments made by members of the Israeli cabinet, demonstrate the extent of the hostility in Israel towards any measure of settlement.
Avigdor Lieberman,
Avigdor Lieberman, stated that "there was "no solution to the Israeli-Palestinian conflict, at least not in the coming years, and what's possible and important to do is conflict-management"
Naftali Bennett
Naftali Bennett said "we will insist on the continuation of normal life, and a continuation of construction in Jerusalem, Judea and Samaria."
Israel refuses to give any assurance that the pre-1967 borders form the baseline for territorial negotiations.
For some time, I have maintained that until the siege and blockade of Gaza is lifted, until the building of illegal Israeli settlements is terminated in the occupied land of Palestine, until the occupation army of Israel returns to the pre 1967 borders, there can be no settlement or accommodation between Israel and Palestine.
No matter what John Kerry may say, publicly at least, and no matter what hyperbolic enthusiasm William Hague may trot out, for the benefit of his own ego and for press consumption, the likelihood of anything positive emerging from these "talks" was always remote and now it seems that even the prospect of "talks" actually starting is fading into obscurity.