http://www.theguardian.com/politics/2013/aug/31/syria-commons-vote-cameron-miliband?guni=Keyword%3Anews-grid+main-1+Main+trailblock%3AEditable+trailblock+-+news%3APosition2&commentpage=7
No 10 launches bitter assault on Ed Miliband over Syria vote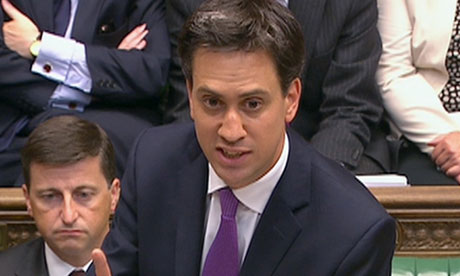 Ed Miliband, speaking during the Syria debate last week:
Having failed to "get the nod" from the Commons on his and Obama's plan (with François Hollande's endorsement), Cameron now turns his wrath and fury on the person he perceives to be the architect of his defeat. The fact is of course that the defeat of the government was brought about, essentially by the weight of public opinion being opposed to yet another war mongering escapade in the Middle East by a British government, and the memory amongst many MP's of the duplicitous way in which this country was duped into the Iraq invasion and war of 2003, despite overwhelming public opposition.
Temper tantrums when being unable to get your own way, are usually associated with spoilt brats in the playground.