https://paper.li/f-1346065353
New Agenda on Sunday. A round up of New Agenda and much much more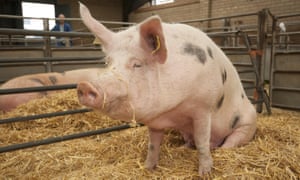 The great British breakfast is under threat.

Good morning everyone.
The Jersey Inquiry in Historic Child Sex abuse at the Haute de la Garenne and other municipal establishments on the island continues in St Helier. This week,
former Jersey Deputy Police Chief Lenny Harper
has been giving evidence, highly critical of the States and the Jersey "establishment" accusing them of deliberate obstruction of his investigations and his subsequent "removal" from the case. Harper also alleged that no charges were ever brought against police officers when his evidence was submitted to the Law Officers department went on to state that there was, "a culture emerging in Jersey of systematic child abuse" which was "far worse" than a single paedophile ring. Responding to Harper's testimony, Frank Walker, who was Chief Minister between 2005 and 2008, said that was 'totally untrue' and that he and the Council of Ministers gave Mr Harper and police chief Graham Power 'our full and unequivocal support'.
(He would say that wouldn't he).
It is interesting
to note
that those investigating the abuse and those originally exposing it, Lenny Harper, Graham Power and former States Member Stuart Syvrett (to name just three) have been subjected to the most
vindictive campaign of abuse, smear and judicial persecution the island has ever witnessed. Perhaps the wall of secrecy is finally beginning to crumble.
City and Country have lodged a planning application

to build

190 homes and commercial units on the site of the former Dorchester county town jail. The prison was sold off as part of a "job lot" of sites for the equivalent of around £1.5 million. It seems that there have been a number of objections to the plan (all responses have been negative apparently). The Council have therefore extended the cut off date for comments on the application, presumably to allow time for someone to actually indicate agreement with the proposals. Which ever way you look at it, acquiring a prime town site for £1.5 million to build 190 homes at say just £250k each, still makes "a nice little earner" even after building and other costs.
The row about the railways and train fares and whether or no to take the railway system back into public ownership rumbles on.
They said that "Privatisation will drive down costs, improve services and result in lower fares" The reality is completely different. Which ever way you look at it, we have the most expensive train fares in Europe, where most railways are publicly owned, and the services in the United Kingdom are appalling too. Ipso facto, the case for renationalisation is compelling.
Still cold, wet and miserable, but its getting warmer they say. We shall see.
Have a nice week
John