New Agenda on Sunday.
A round up of New Agenda and much much more
Good morning everyone.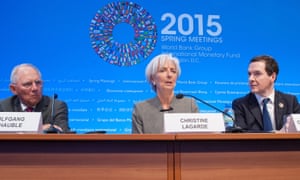 Osborne backs Christine Lagarde
Davos, a town in the Swiss Alps, boasting several ski areas, including Jakobshorn, Pischa, Rinerhorn and Parsenn, which have downhill slopes and cross-country pistes. It's also home to a large natural ice rink and the Vaillant Arena ice-hockey stadium. At the moment, Davos is the venue for the "World Economic Forum 2016", which is little more than a "jolly" for "World Leaders", where loads of hot air conversation is intermingled with quaffing very expensive alcohol and consuming large quantities of rich food and "working lunch" sandwiches. The net results of these three days of meetings will be a few inches on the waistlines of many of the attendees, a few ruffled feathers of ego's and perhaps some severe hangovers. The effects of the meeting to ordinary people around the world will be at best minimal, as most of the "decisions" reached, never progress beyond the text of the print on the final "agreed"
communiqué.

Nice few days away from the office then.
The oil companies are bleating about the cuts in their profits (albeit that they are sill making £billions of profit anyway) brought about by "plunging crude oil prices" in the markets. Apart from the gesture of some supermarkets to have a marginal reduction of their prices (down 1.5p per litre) I have not seen any evidence of "plunging prices" of fuel at the pump.
You may have noticed that the long predicted "heavy snow" which has been forecast for weeks, finally arrived, but on the East Coast area of the United States. Storm Jonas is now apparently racing across the Atlantic and is expected here on Tuesday! However, we need not worry about 40 inches of snow falling on us over a period of 24 hours. By the time it gets to the United Kinfdom the snow will have turned to rain. We may have to uncover the boats again.
Have a nice week
John