http://www.msn.com/en-gb/money/worldmarkets/oil-surges-after-saudi-kings-death/ar-AA8uAC4
Oil prices surge following the death of Saudi Arabia's King Abdullah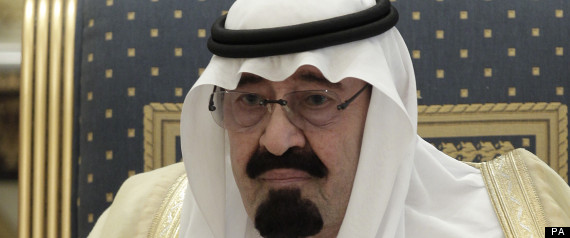 King Abdullah Bin Abdulaziz Of Saudi Arabia
The speculators and parasites never miss any opportunity to make money. The despot of Saudi Arabia dies and the price of oil surges.The connection between two unrelated events will be explained by the pundits as "the markets do not like uncertainty"
All those tankers lying at anchor and full of oil waiting for the right circumstances to unload their cargoes, can now head towards the terminals and discharge the liquid. We can expect the oil companies to announce huge increases in profits at the next round of company announcements and in the meantime, the recent fall in the price of petrol at the pumps will be reversed within days if not sooner.
An enlightening perspective on the oil companies, dealers and speculators in a sick and greedy industry.
In the meantime,David Cameron pays tribute to monarch's 'work for peace' in Saudi Arabia.
David Cameron pays tribute to monarch's 'work for peace'
Clearly, Cameron is confused again.. What about Saudi intervention in Bahrain and other places? Was that Abdullah working for peace? He did of course buy a great amount of weapons, ammunition and other equipment from the UK. Perhaps Cameron meant to pay tribute to the despot for all the Saudi cash that was and still is flowing into the city and the British arms industry. The corruption scandal involving BAE and the Saudi's, outrageously stopped by Blair, will presumably go away as well now. Business as usual with the new monarch.