Alex Deane
Another Saturday night and another jaw dropping performance from a Sky News paper previewer. Last week and the week before, it was Christina Patterson. On Saturday this week, (September 2nd) it was Alex Deane,
a British writer, political commentator and consultant
, who is also the former
Chief of Staff to David Cameron
.
The highlight of the show was a heated exchange between Deane and Rachel Shabi, the other sofa occupant, when Deane made the bizarre claim that austerity was in fact a myth and that this country was enjoying the benefits of increasing public expenditure. The full extraordinary story of a man in complete denial of reality, appears in this weeks "New Agenda on Sunday" under the headline, "Austerity is a myth, says Cameron's former Chief of Staff".
Southern Railway: to get £20 million to drive improvements
On Saturday,"Go Ahead" the co owners of Southern Rail, announced profits of almost £100 million. The previous day, Southern Rail, the company always pleading poverty and cancelling trains practically on a daily basis, were given a £20 million subsidy from the tax payers, that is you and I. Giving a privatised company £20 million
of our money
to pour into the pockets of the shareholders and to boost the Chairman's salary is a grotesque
insult to the fare paying passengers and the taxpayers. The privatised rail companies regularly receive huge subsidies from public funds and regularly post increased profits, increased dividends to shareholder and increased salaries and bonuses for senior management.Seems wrong to me.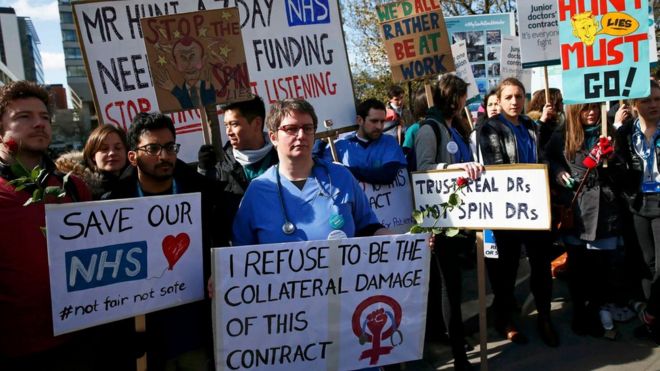 Another big story this week is the proposed industrial action by Junior doctors. It is common knowledge that
we do not have sufficient facilities to adequately staff a full 5 day health service (without substantial amounts of overtime working and temporary agency staff with the associated cost premiums), the government, Jeremy Hunt, is obsessively determined to forge ahead with the absurd notion of stretching the already limited resources from 5 days to 7 days !
However, Hunt has no provision in this preposterous plan to provide even 1 extra doctor or nurse or ancillary worker to meet the additional demands.
His only response is to bleat on about the extra money that Doctors will receive for working "unsociable hours". A pathetic
and hollow
response from the Secretary of State who over the past years has become a central part of the problems in the NHS rather than a solution to them.
The full story appears in "New Agenda on Sunday" under the heading "

We shall not be fooled by the deceitful propaganda of government and media and their shabby treatment of our NHS

"

.
Strictly Come Dancing 2016
"
Strictly Come Dancing
"
returned to our screens this weekend accompanied by the usual publicity seeking stunts
.
This week it is the
,
"Show result fixed already" allegation, no doubt soon to be followed by the
"Romance blossomed during our performance of the Rumba", stories which occur with monotonous regularity during each series.
At least I shall now have a regular time slot to wash my hair.
The children are "Back to School" which will no doubt be a great relief to some frazzled parents.
September, with days getting shorter, mist and fog, someone tampering with the clocks in October and stealing a whole hour, nothing to look forward to with the possible exception of December 25th.
At least its getting warmer
so
they say.