http://www.guardian.co.uk/business/2013/jan/07/morrisons-sales-fall-christmas
Morrisons suffers miserable Christmas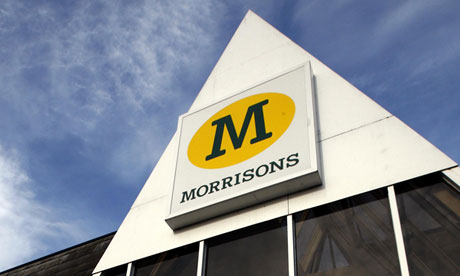 Sales slump at Morrisons
On the first of January, the Morrisons Facebook page asked, "We hope everyone had an amazing night welcoming in 2013… let us know what you got up to!"
In response, I posted the comment, "Brought a couple of Sirloin steaks from Morrisons Bridport, cooked them to medium and served with thick potato chips and a bottle of very nice red wine. The steaks were awful. tough, inedible and were eventually consigned to the bin.(and they were very expensive ! That's the last time that we buy steaks or any other meat from Morrisons)."
Now this is not the first time that the quality of products from Morrisons has been poor and the price has been excessive, so it is not surprising that their sales have dropped. The only surprise is that it seems that they are only referring to the Christmas period. In these time of economic difficulties and pressure on family purses, the message to Morrisons (and the other supermarkets) is quite clear, "Must do better with quality and reduce prices".