http://www.independent.co.uk/sport/football/news-and-comment/allegations-of-corruption-emerge-over-decision-to-award-2022-world-cup-to-qatar-9467270.html
Allegations of corruption emerge over decision to award 2022 World Cup to Qatar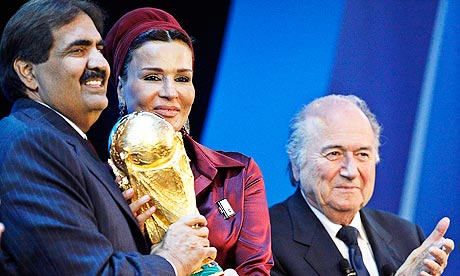 Fifa president Sepp Blatter applauds as Qatar are awarded the 2022 World Cup finals.
On May 16th last, I wrote:
"Sepp Blatter Says Awarding Qatar 2022 World Cup Was A 'Mistake'
Clearly, the other "bidding nations", were unable to provide sufficiently high levels of "donations", to the "FIFA benevolent fund for the rehabilitation of destitute players and managing body officials".
The whole bidding award circus was a stinking charade in December 2010 and the stench remains, even today."
Only now it seems are "Newspapers" waking up to the fact that the awarding of the venues for the 2022 World Cup, was a complete charade and that the "result" was always more to do with money than with suitability. The whole bidding process was a catalogue of graft and corruption for which FIFA and its "management" must bear full responsibility.
It may well be that nothing will come from the latest allegations or from any subsequent enquiry, but there is little doubt that the image and reputation of international football has been tarnished for the foreseeable future.
It may well be a cliche, but money has become more important than ability or talent, both on and off the field.