Good morning everyone.
After a delay of some seven years, "The Chilcot Report" was finally published this week. The report told us nothing that we did not already know about the lies, deceit and glaring untruths which led to the invasion of Iraq and the deaths of 179 British service personnel and hundreds of thousands of Iraqi men, women and children. The report was highly critical of Tony Blair's role, his secret "agreement" with George Bush, and his presentations to the House of Commons. Alastair Campbell must have read a copy with text different from everyone else and Lord Falconer demonstrated on Question Time (BBC 1 Thursday) that he too is in denial of reality. We have not heard the last of Chilcot as the fall out continues.
(Footnote:
Interesting how Saddam killed
th
ousand
s
of his own people and got invaded and yet Mugabe kills millions of his own people and no one says a wor
d.)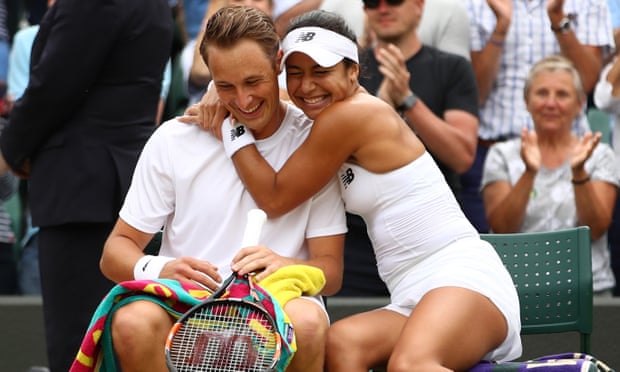 Britain's Heather Watson hugs Henri Kontinen
Britain's Andy Murray
Lewis Hamilton
The Wimbledon fortnight (which seems more like the Wimbledon month) and the associated wall to wall television coverage,
is now over until next July. Congratulations to Andy Murray for winning the men's singles for the second time and Heather Watson for winning, along with her partner
Henri Kontinen
, the mixed doubles title. Strange how the media use the phrase "British champions" to describe Murray from Scotland and Watson from Guernsey in the press adulation, and yet use the word "English" to describe Lewis Hamilton
in his historic win in the British Grand Prix. Congratulations to him also.
Candidate for Prime Minister has links to Channel Islands
Andrea Leadsom has suggested that having children gives her an advantage over rival Theresa May in the race to Downing Street.
A crass and insensitive comment which clearly indicates a lack of judgement. Leadsom also says the she has no connection to offshore banking in the Channel Islands, other than a mortgage arrangement with a bank in Guernsey. This is in contrast to the story in the Jersey Evening Post dated 11th July, which reports of
Leadsom having "
family and investment ties to the Channel Islands
". Where do the Tories find these potential Prime Ministers?
It is our anniversary this coming week, so we are having a few days away. It is forecast that the sea crossing will be a bit rough, the weather will be a bit wet and windy while we are there, but will become sunny and warm as we leave. It is July. Ces't la vie.