http://www.independent.co.uk/news/uk/politics/tories-housing-policy-u-turn-affordable-homes-general-election-2017-manifesto-a7769866.html
Tories U-turn on plan to build more socially rented council housing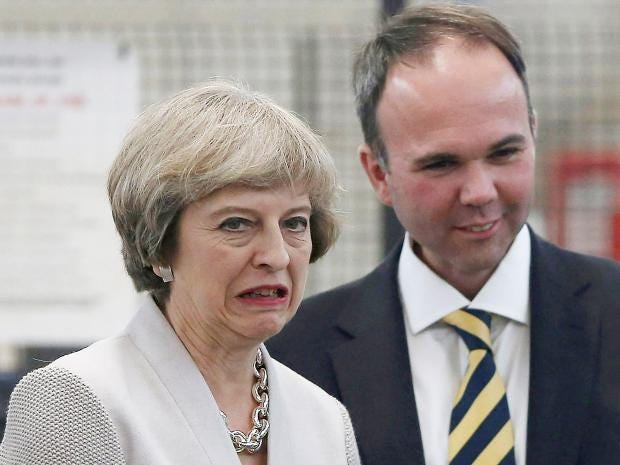 Minister of Housing Gavin Barwell with Prime Minister Theresa May
There cannot be many more U Turns that this government can make on its promises, (but there are still 4 days to go to polling day of course) and this one could arguably be the most heinous U Turn yet.
After "stealing" a Labour party manifesto promise to build more houses, including a large proportion of social housing, the conservatives rushed out their own version of a house building programme.
As recently as mid-May the Conservatives announced they would build "a new generation of homes for social rent". A rather more modest programme than the one million new homes promised in the Labour party manifesto. The conservative proposal was a, "me too" after thought, as they were determined to be seen as actually doing something to address the chronic shortage of homes in the United Kingdom.
The Tory manifesto set out a plan for "new council housing deals", which would help councils "build more social housing", albeit that the government would not provide any additional funding for the purpose. Theresa May trumpeted the importance of the new policy, pledging the manifesto promise would create ,"a constant supply of new homes for social rent".
Move forward just 20 days or so, and Gavin Barwell, the Minister of Housing, calmly announces, and in complete contradiction to the Prime Minister's pledge of a few short weeks previously, that the conservatives will not build new homes for social rent adding "
I think the idea is that they are what you'd call affordable rents in housing terminology, but they are social housing", and
that the
planned homes would in fact be of "a significantly less affordable type".
Naturally conservative party officials played down the most recent U Turn coming out of the election campaign, but have apparently only managed to add more confusion to an already befuddled situation. When asked about the Housing Ministers comments, another conservative spokesperson said,
"We will be supporting new council housing at below market rents. Councils will be in the lead in deciding the precise form of tenure – we expect a mixture of social and affordable rent, as at present"
Now it seems that there are three versions of the same policy. That which was originally promised by the Prime Minister in the conservative party manifesto but which has now been reversed, the policy that was announced by Gavin Barwell, the Minister and the "clarification" from the conservative party
spokesperson which is contradictory to the other two.
The conservative party are seeking to form the next government. They have no policies, as all their manifesto promises have been U Turned or abandoned.They are reliant on the same old faces of Hammond the soon to be sacked Chancellor, Davis the gaffe prone Brexit Minister, Buffoon Foreign Secretary Johnson, Amber Rudd the dithering Home Secretary and many others now to be joined by the latest addition to the troubled clan, Gavin Barwell who seems unsure of what their housing "policy" actually is. A collection of maladroit and bumbling "wannabe's" falling in behind or somewhere around, an inept and incompetent Prime Minister who always looks as if she would rather be somewhere else.
They have no policies, they have no plan, they have nothing but their own vanity and a complete contempt for the British people. They are not worthy of another term in government of this country.