http://www.theguardian.com/world/2015/jun/30/were-not-traitors-insist-greeks-yes-campaigners
We're not traitors, insist Greece's yes campaigners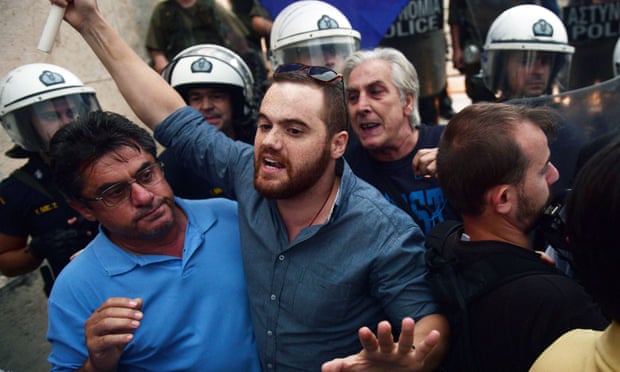 Yes campaigners
The "Yes" campaigners claim that they are not traitors.
If that is true, then they are incredibly naive or, more likely, have their own secret agenda for arguing that Greece should accept even more severe austerity handed out by the autocrats of the IMF and the European Central bank. Moreover, to vote "Yes" in Sunday's referendum condemns Greece to another 15years at least of higher unemployment, higher taxation on food, clothing, utilities and other essentials for the vast majority of the population.
Perhaps those who campaign for a "Yes" vote, are not affected, or are at least protected from the cuts in pensions, the declining standard of living, the regular interruptions to the supply of gas and electricity, the inability to pay for medical treatment and a thousand and one other hardships brought about by the previous years of austerity suffered by the Greek people.
It is easy to vote for more of the same austerity, when your vote affects only the poor, the unemployed, the old, the sick or any other of your countrymen who are not as fortunate as yourself.
The "Yes" campaign claim that they are not traitors, yet they drive for the removal of Alexis Tsipras and the Syriza government, as desired by Angela Merkel, Christine Lagarde and the other European autocrats. Bringing about the downfall of your own government and acting in tacit collusion with powers from other countries or organisations, is by any definition, an act of Treason and renders those involved to be traitors.
It could be that next Sundays referendum will produce the "Yes" result that the IMF, Brussels, the European Central Bank and European Commission covertly striving for. It would also condem millions of Greeks to even worse social conditions than those of today.
A traitor by any definition is someone who betrays their country, sovereign, government, or who betrays a trust.