http://www.bbc.co.uk/news/election-2017-39933116
Jeremy Corbyn officially launches Labour's election manifesto 'for the many, not the few'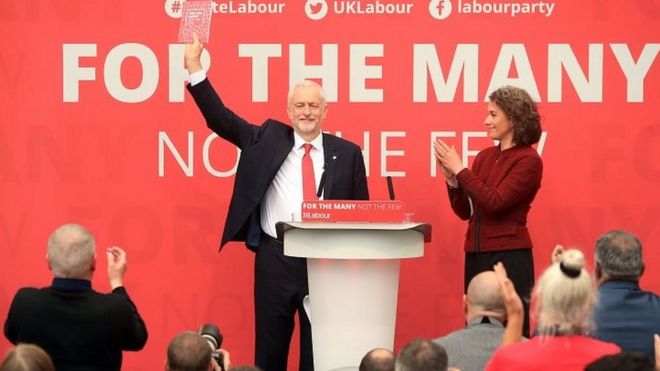 The Labour party manifesto, "For the many not the few", for the 2017 general election was unveiled on Tuesday (16th May) and was immediately attacked by the "usual suspects" in the media and television. "Comrade Corbyn flies the Red Flag" was the less than original headline from the Evening Standard, while the Telegraph wades in with "Tax, borrow,spend. Corbyn is Hugo Chavez on steroids" and "Corbyn plan to Bankrupt UK" from the Mail are but a flavour of the maniacal British press in full flow, focusing their maliciousness on the "Bogey man" and the party he leads because they and their conservative party confederates are only too well aware that support for the Labour party and the policies for the many not the few, is growing around the country. The television channels waded into the fray that night with a blend of bias and antipathy aimed at the Labour manifesto, in all of their news coverage and their review programmes. The tactic is clear and as old as history. When your opponent is gaining ground, push every argument, every misrepresentation, every smear, every accusation or insinuation that you can find into the public "debate". It matters not whether what you are saying is true or not, it only matters that the people are aware of the message.
It is the policies in the manifesto that the conservatives and the media fear, and the knowledge that the conservatives have no credible responses. It is the fear that voters around the country are responding positively to the Labour party programme and that Labour government would have the political will to implement these policies.
T
he 2017 Labour part manifesto is a
"radical" manifesto with major new announcements , costings
and with pledges on childcare, fat cats, tax and nationalisation, school fees, a pledge to build one million new homes, end to zero hour contracts and reform of the Trade Union Act and other far reaching measures which will transform peoples lives.
The full text of "For the many not the few", can be found at

http://www.labour.org.uk/index.php/manifesto2017