http://www.huffingtonpost.co.uk/2013/05/15/george-osborne-insists-economic-plan_n_3281312.html?utm_hp_ref=uk
Osborne has asked business leaders to hold their nerve and continue backing the government's austerity measures.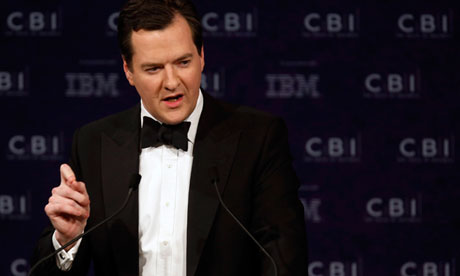 George Osborne urges business leaders to hold their nerve over austerity
George Osborne said at the CBI Dinner last night (15th May 2013), that "Our (economic) plan is working. Now is not the time to lose our nerve. Let's not listen to those who would take us back to square one.Let's carry on doing what is right for Britain, let's see this through."
May we assume that this piece of baloney was spouted after dinner was finished, (and which, per head, probably cost more than many families have to spend on their food bills every week) and after the usual round of 40 year old cognacs and 50 year old Port had been quaffed.
A hall full of rich business people, some of whom were undoubtedly millionaires, listening to another millionaire, (who's performance as Chancellor is at best inept) telling everyone how the plan is working and how we are on the right path, does not inspire confidence.
This annual jolly, designed more as a publicity opportunity for the Chancellor than for any useful purpose, demonstrates how disconnected from reality some so called business leaders and many politicians actually are.