http://www.huffingtonpost.co.uk/2013/03/18/leveson-david-cameron-press-regulation_n_2901113.html?utm_hp_ref=uk
David Cameron Tells Tory MPs He 'Called Ed Miliband's Bluff' On Leveson. Prime Minister Cameron.
No matter how you view it, self regulation is self regulation which has proved to be at best ineffective in the majority of instances where such regulatory bodies operate. A Royal Charter to back up press regulation, or press regulation with statutory underpinning may seem diametrically opposed positions, but in the bizarre world of Westminster political intrigue, both options are in fact the same thing. Of course, there are those who may believe that a solution such as this, is no more than a fudged up compromise by two, or is it three, protagonists who have "bottled it". That may however be a bit cynical.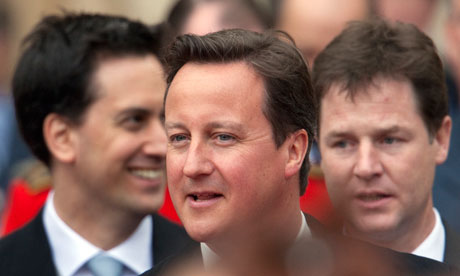 Cameron, Clegg and Milliband.
On television last night, on numerous channels, first Cameron then Clegg and finally Milliband appeared and all said the solution agreed at 02:30 that morning, was what they had been proposing all along. In other words, all sides were right and all sides had won. Nothing could be further from the truth. Even with the "endorsement" of Hacked Off, this compromise is nothing more than a seedy little sham created as a face saving exercise for the benefit of people who were anxious to avoid a vote in the House of Commons. "The Press" have already expressed grave concerns with the agreement and will no doubt huff and puff for a few days, but over the coming months and years, will settle back into that cosy privileged position of being a law unto themselves with political parties jockeying for positions of favour with "the media". In the event that circumstances of alleged abuse by the media arise and which are subsequently referred to the new "independent watchdog", the lawyers will be queuing up to argue in court what the meaning of the words in the Charter mean and what the intention of the parties actually are.
We have not seen the last of stories like those covering Hillsborough or the Joanna Yeates murder, or any of the others which lead to the Leveson inquiry being established in the first place.