http://www.guardian.co.uk/world/2013/mar/16/cyprus-savings-levy-imposed-eurozone
Cyprus: panic as savings levy is imposed
Cypriots reacted with disbelief at news they would have to pay a levy
Cypriots reacted with shock that turned to panic on Saturday after a 10% one-off levy on savings was forced on them as part of an extraordinary 10bn euro (£8.7bn) bailout agreed in Brussels.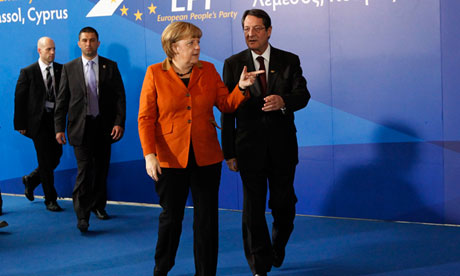 State endorsed theft.

The theft of savings from pensioners, ex pats, UK service personnel, and the people of Cyprus generally would be regarded as the most despicable crime that any government could impose in its pursuit of "austerity" savings to secure a bailout. When this act of gross piracy is carried out by and in the name of the Eurozone "officials" in Brussels, and the bankers it becomes even more odious. The Eurozone, dominated by the Germans, the Bankers the IMF and the European political cabal sink to a new level of economic and political iniquity.