http://www.huffingtonpost.co.uk/2013/03/13/prince-charles-camilla-syria_n_2866680.html?utm_hp_ref=uk-impact
Prince Charles And Camilla Visit Syrian Refugee Camps In Jordan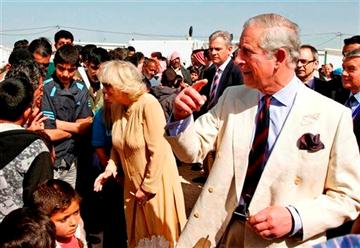 Charles and Camilla at King Abdullah Park camp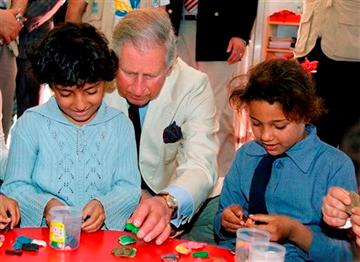 Charles with Syrian refugee children
A sanitised visit to the King Abdullah Park camp is hardly likely to give Charles and his wife any real understanding of what a "refugee camp" usually is. Once again royals are given a view of the world from inside a carefully constructed bubble, rather like the "Gents" sign on the public toilets in the railway station being covered up so that the passenger on the train is not embarrassed as the Royal Express thunders through. Perhaps the couple should have been taken to the Zaatari refugee camp or even the Bashabsheh camp, just two of the many camps established in Jordon for refugees from Syria.
Syrian refugee children at the Zaatari camp
Al Bashabsheh refugee camp in Jordan
There are estimated to be more than 450,000 Syrian refugees in Jordon today in numerous camps across the country established by the government with United Nations assistance. A visit to a camp housing less than 1000, is hardly indicative of typical conditions. Charles described the plight of Syrian refugees as "heartbreaking" as he toured the King Abdullah Park camp. He was presumably not given the opportunity to comment on or visit other locations close to the Syrian border.