Labour's Angela Eagle condemns 'draconian' trade union bill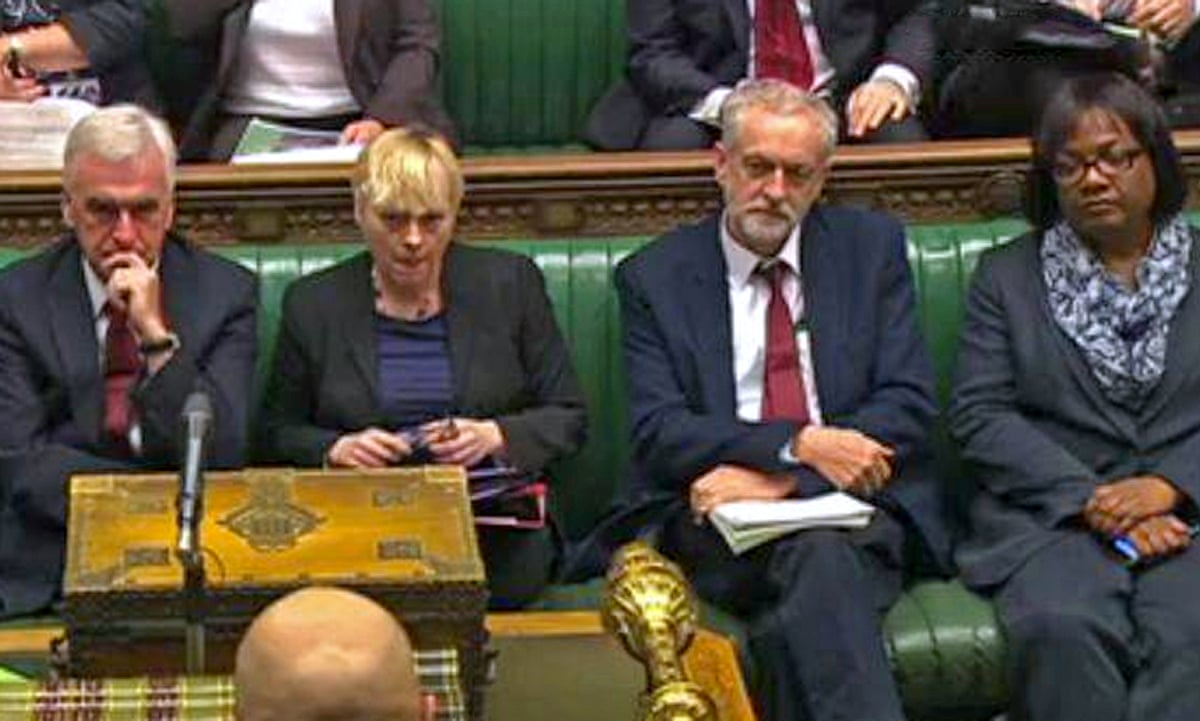 The Labour Front Bench.
I watched the debate on BBC Parliament channel yesterday (14th September 2015) and heard some very good speeches from the Labour benches both front and back. Alan Johnson (who I have been critical of in the past) made a particularly fine speech likening interventions from the governments benches to comments made by "Teletubbies" and suggesting that crayons and paper for drawing be provided in a room adjacent to the chamber.
Angels Eagle's response to government Business Secretary Sajid Javid's unconvincing comments opening the debate, was superb as the front bench team of Jeremy Corbyn's new shadow cabinet ripped into a pathetic government proposal for "Trade Union reform", with vigorous speeches and interventions from the Labour back benches.
The sight of a strong Labour party opposition, attacking a weak government (something which has been all too rare over recent years) demonstrated the extent to which the new Labour administration will be a formidable force when their collective strength is directed towards the enemy occupying the benches opposite. The Labour party may have lost the vote, but there is no shadow of doubt that they won the arguments. The second reading debate of this vicious, vindictive and in Angels Eagle's words "draconian" bill is but the first round of a fight which will continue over the coming weeks and perhaps months and will involve the Trade Union movement and people generally, mobilised into resistance against this latest Conservative measure designed to destroy the trade union movement.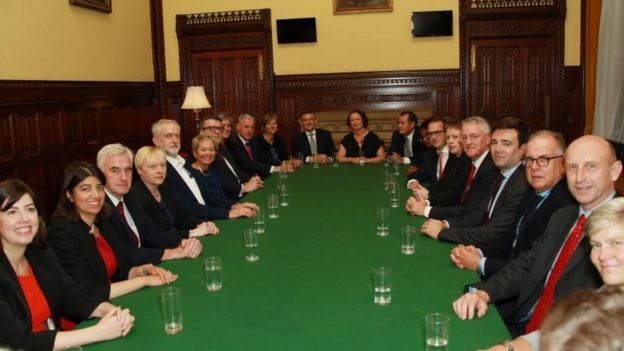 The new Shadow Cabinet.
The Labour party in Parliament owe it to the people of this country to stand united, and together with the trade union movement, lead the resistance to this pernicious piece of government legislation, and all those malicious proposals which will be presented to the Commons over the months to come. Each member of the Parliamentary Labour Party must recognise and accept that their enemy, and the enemy of the British people, sit on the government benches opposite (only 36% of people voting actually cast their vote for the Conservative party in May of this year) and not on the benches around them. The British people will never forgive a Labour party where individual ambition and factional self interest, stand ahead of opposition to a vicious but clearly weak government. Let last nights debate be the beginning of a united fight against a "Bullingdon Club" gang, which is destroying large sections of our economy, demonising sections of our people and dismantling the very fabric of our society.