http://www.theguardian.com/sport/2015/oct/10/englands-henry-slade-shines-in-early-world-cup-farewell-against-uruguay
England's fans will look back in anger at World Cup after hollow victory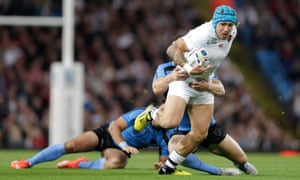 England 60 - 3 Uruguay
We (England), managed to beat Fiji and Uruguay. Hardly two of the greatest rugby playing nations of the world. We did not however come any where near to beating Australia and were fortunate in only losing to Wales by 3 points.
Where does this leave English Rugby?
Either, we do not have the necessary quality of players to compete at the highest levels of the game or we do not have the managerial skills to weld our players into a formidable, ruthless machine to drive over the top of any opposition to win ball and score tries.
Now I was one of those people who raised and eyebrow when Martin Johnson was replaced by Stuart Lancaster, but I am not one of those clamoring for the immediate resignation of the Head Coach. Personally, I have always seen Dean Richards the former England number 8 and current coach of Newcastle Falcons as a very strong candidate albeit that he has not expressed an interest in the position so far. However, it is early days.
Newcastle Falcons director of Rugby Dean Richards
What is perfectly clear is that things cannot continue as they are. I am one of those strange (to some) people who ardently subscribe to the philosophy that there are no prizes for coming second and whoever said "it's not the winning but the taking part that counts" (I know it was Baron Pierre de Coubertin"), has never experienced the gut wrenching physical pain of watching some other party take the trophy.
We have the 6 Nations Trophy Internationals to come over the next few years leading to the next World cup in Japan in 2019. Not very far away in the overall scheme of things, so we must find the right people now to ensure that the terraces in Paris, Cardiff, Rome, Edinburgh, Dublin, Twickenham (and whatever they call them in Japan) will be ringing to the sound of Swing Low Sweet Chariot very soon.