http://www.theguardian.com/money/2015/oct/16/average-monthly-rent-hits-record-high-of-816-highlighting-housing-shortage
Average monthly rent hits record high of £816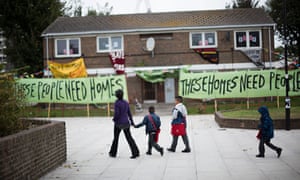 Social housing should be built to suit a range of incomes
A report which underlines the simple economic reality that, where there is a shortage of a commodity, in this case rented accommodation specifically, but emphasised by a housing shortage generally, the price level of the available "stock" will increase. We have seen the level of rents increase significantly over recent years and with some regional variations, has increased in the past 12 months alone, by between 6.3% and 8.5% with a fall in Wales and the North of England.
Higher rents combined with the growth in property values mean that landlords in England and Wales have seen returns of 9.4% over the past year. Landlords have plenty to be happy about, suggested Adrian Gill, director of Your Move and Reeds Rains.
Not so "happy" for those seeking homes in the rented sector of the housing market however.The "economic reality" of ever increasing rented accommodation prices, has effectively been engineered over time, by governments actually seeking to retain a high price level in the house building sector both in the "home ownership" market and in the rented sector.
Local councils have by government directive and some by their own volition, abandoned their historic function of providing rented accommodation within their areas. Many council houses have been sold off on the open market and of those remaining, all have been passed to Housing Associations who now provide "social housing" for those "on the waiting list". However, even where Housing associations are building homes, the demand is far in excess of supply. In the private rented sector, the position is even worse. A significant number of Private landlords have increased rent levels to such an extent that many people are unable to afford either rent or mortgage and consequently will remain in need of housing for many years. In many cases, the higher rent levels are paid for by Housing benefits, which results in an ever increasing Welfare bill.
Governments of all political persuasions, have completely abdicated their responsibilities for the provision of housing in this country particularly in the social housing sectors, and have allowed builders, speculators and private landlords to profit from ever increasing demand in the housing markets.